A Blessing from the Soil
Terroir Sake "Kikuju"
"Kikuju" is not the sort of sake that charms everyone with its purity and freshness.
Although a bit hard of taste when first opened,
it gradually blossoms with umami flavor when allowed to breath.
The aftertaste is full and lingering,
but its most captivating feature and one you will enjoy to your heart's
content is the sweetness of the naturally-grown,
full-bodied Koshihikari rice as it fills your mouth.

Kikuju is instilled with the spirit of gratitudethat we as people have for the life that gives us sustenance,
whether it be fish or meat. It is a perfect match with not only everyday home cooking,
but also with French, Italian, or Chinese cuisine produced by skilled master chefs.
Enjoy it as you like, whether cold or warmed, to accompany each moment and setting.

Kikuju is a healthy sake,
brewed from Koshihikari rice grown without pesticides or fertilizers.
The subtle flavor and fragrance leave no lingering effects.
The smooth texture and pleasant acidity will encourage you to enjoy it at length.
Unpretentious but correct of form and with great depth,
Kikuju is an essential find for those who prefer a light, dry taste.
We recommend aging for those who are less partial to acidic flavors.
The freshly brewed acidity will gradually mellow over time.

Kikuju is a refreshingly delicious sake
that evokes the richness of the soil that gave birth to the grains.
It goes down smoothly like pure water over rocks,
and is imbued with the fragrance of steamed rice.
It is a sake that exists within the cycle of nature.
Rather than a momentary flight of passion,
it is filled with a joy like meeting at long last your greatest love and companion.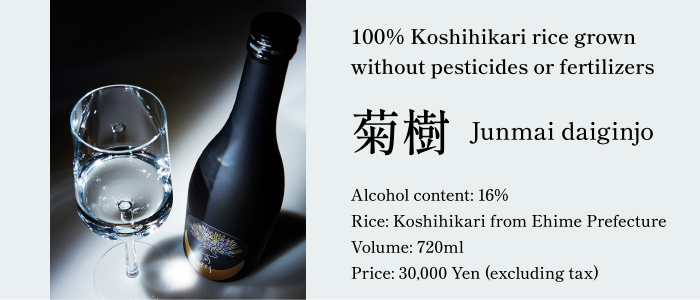 ※Recipient of the Platinum Award in the daigijnjo category
at Kura Master 2021 held in France in July 2021!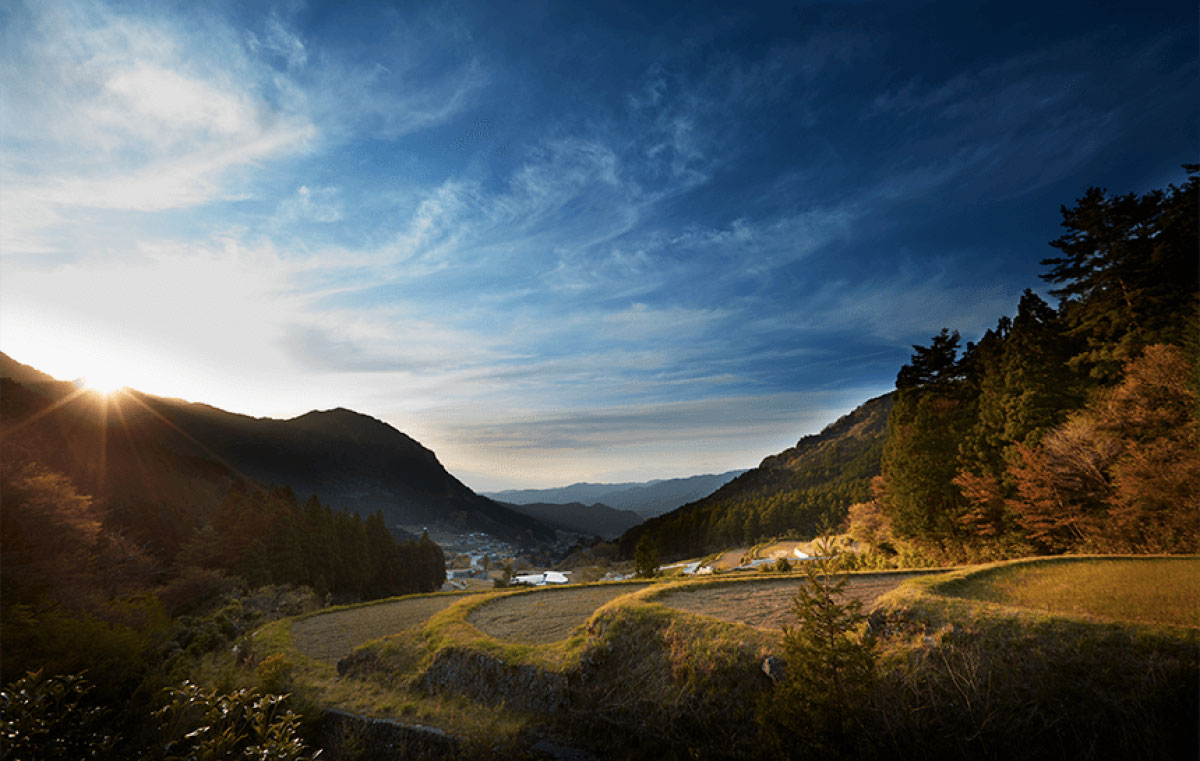 Sun and Water and Soil
the rice terraces of the
Katsuyoshi Kikuchi Natural Farm
were formed by the very landscape
of Kawanouchi.
Katsuyoshi Kikuchi Natural Farm is situated in the eastern reaches of
To-on City in the Kawanouchi district at the top of the Dogo Plains of Ehime Prefecture.
The gentle slopes adorned in shallow rice terraces layer upon layer is the epitome of traditional Japanese scenery.
Air flows down from the sacred Ishizuchi mountain range to the rear,
and together with the magical beauty of sunrise and sunset,
the golden glow of the autumn harvest is unmatched anywhere in the world.
Nestled along a small ridge reaching north to south,
the area sees major variation in temperature between day and night,
and the farm is moisturized by clear mountain streams rich in minerals flowing from the dense broadleaf forest.